Guiding You Towards a Greener Path
The next generation of consumers expect businesses to have a point of view on societal and environmental issues, and to be doing the right thing for people, communities and the planet.
​
While nearly 8 in 10 organizations have developed their sustainability strategies, 94% of organizations lack the necessary talent to implement their goals.
At Manpower, we understand the importance of aligning your workforce with sustainability values for success in today's world. That's why we go beyond traditional recruitment services to offer comprehensive consulting and training to help organizations embark on their green journey.
​
Our expertise covers three areas: ​
​
Consultancy: Our consultancy services address environmental, social, and governance aspects to develop strategies that enable you to build a sustainable business model. We work closely with organizations to develop a roadmap for success, ensuring they stay aligned with global sustainability frameworks and achieve their ESG goals.
​
Training: Equip your workforce with the knowledge and skills needed for sustainability excellence. Our training programs cover a range of topics, including ESG fundamentals, sustainable practices, and green innovation. Empower your employees to become sustainability champions today. Learn more.
​​
Recruitment: Finding the right talent is crucial for driving your sustainability initiatives. Our specialized recruitment services connect you to talent with green skills and expertise. From ESG analysts to sustainability managers, we source top talent to strengthen your sustainability team.
​
​With our expertise in consultancy, training, and recruitment for sustainability and green jobs, we'll help accelerate your organization's capacity to drive positive change and contribute to a brighter future.
​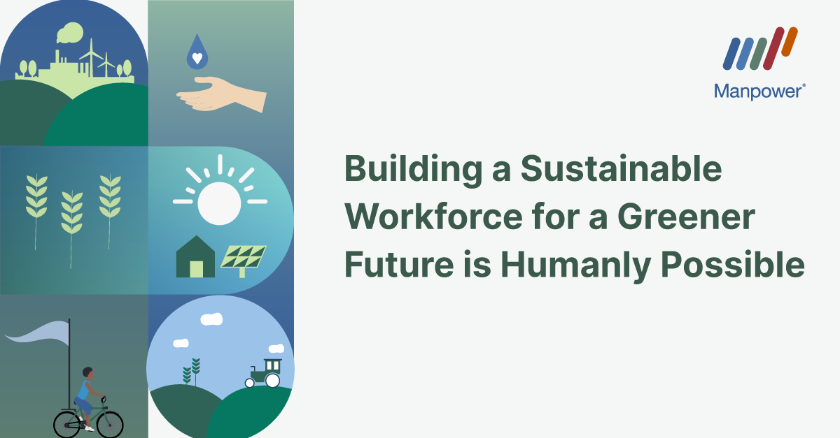 ​
​
​
Why Choose Manpower?
We have a deep understanding of the jobs and skills needed to drive sustainability forward and have a pool of skilled people ready to step into those roles.
Deep Industry Knowledge: Our consultants possess extensive knowledge of the sustainability and green sector. We understand the unique challenges and opportunities it presents, allowing us to provide tailored guidance and recruitment solutions that meet your specific needs.
Green Talent Network: Through our comprehensive network of professionals passionate about sustainability, we connect you with talent that not only possesses the required skills but is also dedicated to making a positive impact on the environment.
Purpose-Driven Approach: We believe that sustainability is not just a buzzword but a core value that should guide every aspect of your organization. We prioritize candidates who are not only skilled but also genuinely committed to making a positive impact on the environment.
Tailored Solutions: Whether you need assistance in developing a sustainable hiring strategy, identifying key roles for your green initiatives, or finding top talent for specific green job roles, we provide customized solutions to help you achieve your sustainability objectives.
Simplified Hiring Process: As we understand your pain points and challenges, we can streamline the recruitment process for you, saving you time and resources so that you can focus on what you do best—driving positive change.
End-to-End Workforce Solution: Train workers with the green skills and mindset they need to drive your sustainability policies forward. We have the industry expertise and experience to position your workers for success.
Green industries that we support:
Biomass

Geothermal

Hydro/ Water

Solar

Wind

Renewable Energy

Utility Scale Batteries/ Electric Vehicles

Waste Recycling
Contact Manpower today to explore how our consulting services can help you navigate your organization's green journey and fulfill your hiring needs for green talent.
​
Click here to check out our job openings in Environment and Sustainability.
Learn more about our training programs here.